About Transland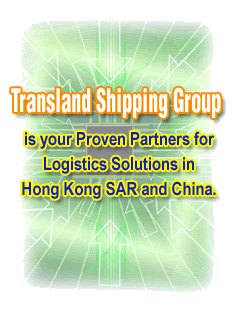 Our Vision:
We are committed to be the leading logistics solutions provider in china through the development of staff and partners and by offering customers' intimacy.
Our Mission:
To be a symbol of Professionalism, Integrity, Quality and Reliability in the logistics market
Provides cost-effective solutions
Be quick responses to changes
Offer motivating work opportunities and development for our team of employees
Be a valued partner in the best practice global network
Be our client's innovative, competitive edge in logistics
Our key words:
Professionalism and Integrity
Apart from keeping business confidential of our customers, we also emphasize in meeting job deadline. With professional skills, we take serious to handle customs clearance and other related import and export documents.
Quality and Reliability
As a third-party logistics company, Transland shipping Group has the capability to manage and coordinate all of customers' logistics information and resources to meet their competitive requirement We listen carefully to their business needs, then offer them a range of customized options designed to give them control over costs and performance. Once customers have selected the services they want, we work closely with them to guarantee the smoothest possible implementation and transition. We ensure ongoing success by maintaining constant communication and a close working partnership with their team.
Make an Enquiry
We aim to respond within 24 hours. If it is an urgent matter, please call us directly on
+852 2489 1388.
Our Services
Business Solutions
Based on the four key values in our business culture – Professionalism, Integrity, Quality and Reliability, we have developed 18 business units. In appreciation to the continuing support from friends and partners, we keep ourselves flexible, customer driven, building value network and fast knowledge adoption. We developed an integrated logistics platform so that changes are possible.
Our motto states customers' success is our success.
Business Partnerships
We treasure our partners to develop win-win-win projects together. We believe "Win" should not only the company and partners but also the society. We wish the knowledge enables the society reducing wastage, saving resources, enhancing productivity, producing more green products and developing a better tomorrow.
Make a Request
We are at a click distance. You are welcome to contact us through email - info@transland.com.hk, Please send us the enquiry form to let us know your needs and challenges.